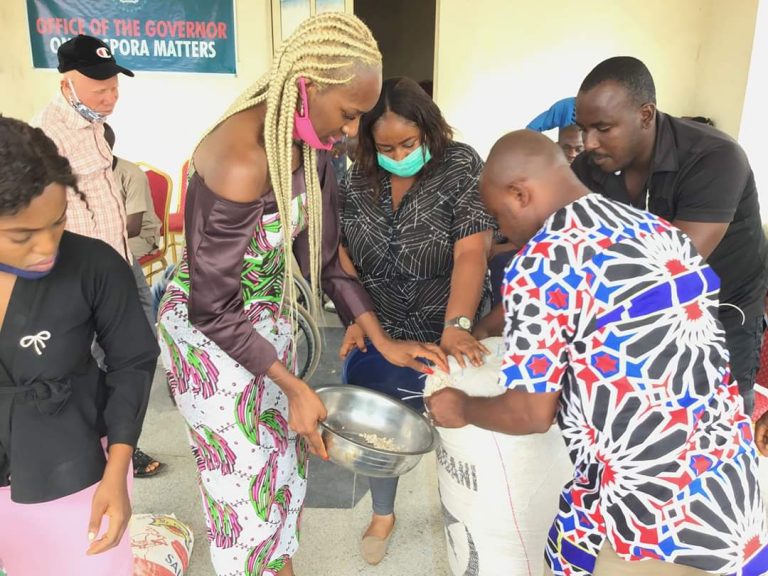 During this time of great uncertainty, with Covid-19 dictating the tone, it is easy to feel overwhelmed, but one of the Offices that has remained optimistic in their activities is the Office of the Imo Governor on Diaspora Affairs.
Following a recent call out for Diasporans to reach out to the most vulnerable people in the community, a couple of Imo Diasporas have answered this call and On 20th of May 2020, the Special Adviser to the Governor on Diaspora Affairs conducted palliatives distribution at their office, on behalf of a Diaspora Organisation 'Pay it Forward'. This organisation donated thousands of Naira worth of food items to be specifically distributed to Disabled persons.
Read Also: Imo Elders Council Charge Uzodinma To Probe Predecessors
Speaking at this poignant event, Cllr Celia Osakwe-Hibbert, SA to Governor on Diaspora, thanked the Governor for appointing people with Disabilities as Cabinet Members, the SA also commended Gov. Hope Uzodinma for his constant display of 'inclusion and diversity in his governance style'.
"It is worth mentioning that only a few days ago the Governor and His Commissioner on Gender & Vulnerable Persons conducted a huge palliatives distribution session, strictly for the Disable community". Cllr Osakwe-Hibbert went on to say, "I am proud to serve under this Government, my Boss has clearly demonstrated that he is willing and capable of upholding the Equality Act, where everyone is given equal opportunity irrespective of their Abilities, Gender, Religion or even Political Affiliation. I am a UK Diasporan and I sense Imo will match the United Kingdom practices in terms of Inclusion, our Governor has set the stage!"

Undoubtedly, everyone is affected by the impacts of Covid19 but people living with disabilities face double the amount of challenges. One of the attendees stated that "It is very difficult to go into any public buildings, even banks" Another stated that "It's so difficult to get by as hardly anyone actually care about us"
The Governor's SSA on Disability Hon. Charles C. Ebuoma who was present, reassured 'the Heads of Clusters' that Hope and Change has come! He promised the cohort that he will ensure that every stake holder in the State will be proactively encouraged to play a part in upholding the 'Discrimination Against Persons With Disability (Prohibition) Act 2018'.
Some of the Heads of Clusters who were present were Head of Deaf, Albino, Blind, and Head of Physically Challenged.